Progress range: quality you can afford
Get ready to fall in love with the habitation space and feeling of well-being promised by the unique, contemporary furnishings.
NOTIN Progress never disappoints, takes travel to a new dimension.
Choose your motorhome profiled between the 5 models in the range: Lugo, the compact motorhome, Valencia the camper with optimized volumes, Almeria the camper in the central bed and max wardrobes and Sevilla the camper profiled twin beds.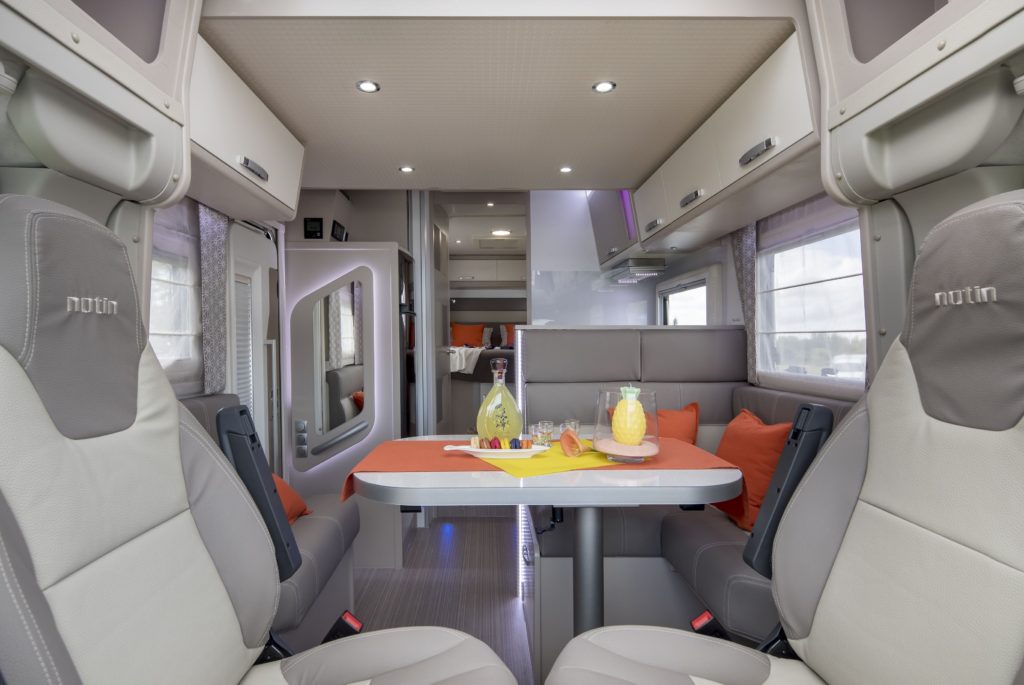 MOTORHOME PROFILE ON NEW FIAT DUCATO CARRIER EURO 6: MOTORHOME RUSTERED, FOR COMFORT AND SAFETY:
• Gray metallic cabin + assorted handles *
• LED daytime running lights * + fog lamps *
• Electric mirrors and de-icers
• Driver and passenger airbags
• Engine air conditioning
• cruise control / speed limiter *
• Central locking of the 3 doors (2 doors cabin + door cell) • 90l fuel tank *
• Traction + / Hill Descent Control * (help to keep the speed downhill)
• ESC (Electronic Stability Control: the most advanced electronic system for vehicle stability)
• Composite suspension blade on light chassis.
• KENWOOD reversing car radio camera
• Remifront cabin curtains *
• Rear air suspensions ALKO *
BODYWORK NCIS IN POLYESTER NOTIN COMPOSITE INALTERABLE SYSTEM
Concept of unalterable panels entirely devoid of wood; reinforced styrofoam insulation with 62 mm floor
AN OASIS OF WELLNESS:
Relax in a "home-like" room:
• All our locations allow easy circulation in the room
• High density mattress with firm 30kg foam and memory cover on slatted frame
• Lifting headboards according to models
• Night lights
• Optimized storage spaces
• USB plug in room
• BED PAVILION electric comfort perfectly integrated
• Easybed system available as an option on Valencia and Almeria
REAL EBENISTERY CONTEMPORARY TWO-TONE :
NOTIN exclusivity; elegance, French refinement; luxury table with optimal travel on 2 axes and ease of use. Exclusive modular cupboard system
KITCHEN ALL COMFORT:
• Tempered glass kitchen tops
• High quality sink
• Built-in trash
• Bottle rack • Luxury taps with swivel head
• Gas stove – oven *
• Extractor hood with LED lighting
• Standard bar / coffee maker
• 190L * freezer refrigerator with its wintering grills THE LARGEST REFRIGERATOR ON THE MARKET!
• Maxi storage drawers "NOTIN EXPERT" with automatic assistance
MODERNITY OF TOILET SPACE:
• Large shower cabin, high finish with ventilation skylight
• WC space – spacious and comfortable washbasin, isolated; integrated washbasin in Ocritech
• WC cassette with integrated ventilation + charcoal filter (except Lugo)
AUTONOMY WITHOUT EQUALITY:
Notin has developed the ENERGY PROGRESS 2019 pack to offer maximum electrical autonomy:
BATTERY EZA NOTIN 80
+ converter 12V / 220V EZA NOTIN 1800W
+ 140W solar panel
+ 650W coffee maker