Excel Integrated range: 
French excellence
Integral motorhome with innovative exterior line offering a fantastic panoramic view of the most beautiful landscapes.
The perfection of a work done by "professional experts", generous spaces, a contemporary atmosphere and exceptional equipment characterize this range of integral motorhomes.
We are proud to manufacture this range of excellence in France, with quality and experience unmatched today in the world of recreational vehicle.
Choose your complete motorhome from the seven models in the range: Sydney JL, the full twin-size motorhome, and the Sydney JF face-to-face lounge version, Calgary CF, the full-face-to-face motorhome and its twin version Calgary JF and Volga 2 full-size motorhome with spacious volumes in its 3 versions: Volga 2 CL, Volga 2 CF and Volga 2 JF.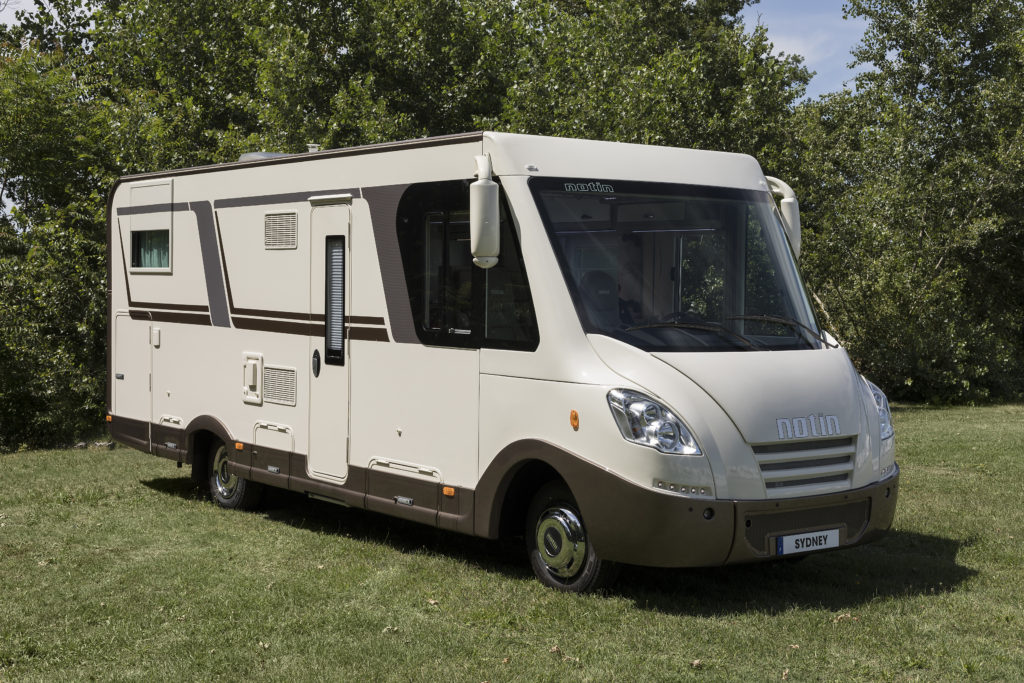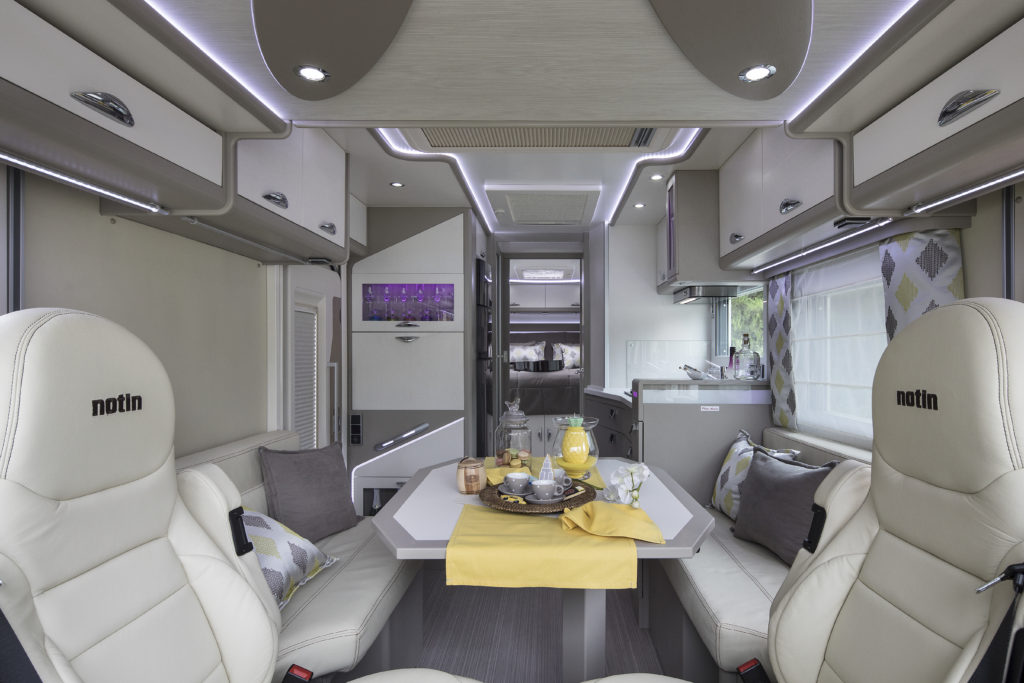 COMPLETE CAMPING CAR ON CARRIER MERCEDES SPRINTER, AT THE HEART OF INNOVATION:
• Euro 6 engine, respect for ecology
• Propulsion • ABS / ASR / ESP
• Driver and passenger airbags
• Air conditioner ; speed regulator
• Exceptional turning radius
• Retractable handbrake for perfect rotation of height-adjustable NOTIN luxury seats
• Reinforced motorhome shock absorbers
• Optional 7-speed GTRONIC automatic transmission
• Central locking of the cabin + cabin doors
BODYWORK NCIS IN POLYESTER NOTIN COMPOSITE INALTERABLE SYSTEM
Concept of unalterable panels entirely devoid of wood; reinforced styrofoam insulation.
The technical double floor of 92 mm allows a perfect insulation. Alufiber confers exceptional advantages:
• increased resistance to hail
• easy maintenance
• durably lacquered and automotive-looking
A one-piece cork coating on the roof completes the insulation
CENTRAL HEATING ALDE:
For more than 2 decades, NOTIN has been using ALDE central heating which surrounds the vehicle; the floor is heated and a valve isolates the circuit of the room, the living room and the floor. ALDE heated towel rail is integrated into the toilet
EXCEPTIONAL LEVEL OF EQUIPMENT:
• Central heating ALDE
• Leather upholstery with choice of color
• Mattress with memory foam
• Full Volumetric + Perimeter Alarm *
• Rear and rear parking sensors *
• Car audio camera reversing camera + navigation *
CABIN BED:
Our exclusive 1 or 2-seater system (by extension) offers optimal comfort and fits perfectly into the interior design while maintaining an exceptional under-bed height for an integral.
LIGHTING:
LED technology used for lighting ensures a refined interior and reduced energy consumption.
MAXIMUM AUTONOMY:
Offering two standard AGM 110A batteries + a suitable charger, NOTIN offers a battery pack increasing battery life: 200A + lithium battery charger 60A + booster 50A + converter 1500W + 2 solar panels 120W + Nespresso 220V …
Hyper accessible electric box gathering battery and electrical components
A large number of USB jacks – 12 and 220V is distributed in the vehicle (front lounge – kitchen room – bathroom – bunker – …)
Lighting with dimmer in the living room
BATHROOM ALL COMFORT:
• XXL shower cabin with premium materials
• Space WC / washbasin design, with high ventilation
• Cassette WC with SOG ventilation system *
KITCHEN AT THE TOP OF MODERNITY:
with "Super Chef" equipment:
• Design resin worktop V-KOR
• High quality sink
• Built-in trash
• Luxury taps with swivel head
• Extractor hood with LED lighting
• 220V coffee maker
• Tectower with fridge freezer 190L (+ winterizing grills) and integrated mini oven
• Maxi braked storage drawers
• Illuminated bar
TRADITIONAL JOINERY:
Our new cabinetry with mortise tenons perpetuates the tradition and know-how NOTIN; since always, our carpenters cabinetmakers manufacture furniture of unequaled quality in the construction of recreational vehicles